Car Insurance Coverage
For most of us, our cars are one of the biggest investments we make and to experience a loss could be financially devastating. Auto insurance can cover more than just the repairs on your vehicle.
Homeowners Insurance
Many financial experts consider life insurance to be the cornerstone of sound financial planning. It can be an important tool in the many situations. There are two major types of life insurance—term and whole life.
Commercial Insurance
Choosing the right commercial insurance plan for your business can be very confusing, so we have developed many different options and programs to meet the needs of our commercial insurance clients in California.
Welcome to Lider Insurance Service V
At LIDER INSURANCE SERVICE V we are continuously working to provide the individual coverage you require. When it comes to protecting your auto, home, business and family, don't leave it up to chance, or fly-by-night brokers. At LIDER INSURANCE SERVICE V we take pride in our business and strive to be relationship specialists providing you with the total insurance solution for all your needs. Being insured with the best has its advantages.
That is just one of the reasons why the companies we represent have continually earned the highest ratings from AM Best, the leading independent insurance industry rating authority.
We also service customers from the following towns: Thousand Oaks, Simi valley, Stockton, Salinas, Lodi, Merced, Santa Maria, Los Angeles.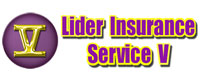 1056 N Western Ave
Los Angeles, CA 90029
Phone: 323.463.6280
Free Phone: 800.650.3636
Fax: 323.463.2943
csr@liderinsurance.com